"Climate change may seem abstract and distant for many of us, but it is one of the gravest challenges facing humankind."
As part of Prime Minister Lee Hsien Loong's National Day Rally speech in August 2019, these sobering words were a wake-up call that climate change is a global challenge that we ignore at our peril.
Singapore finds itself on a knife's edge with unprecedented climate changes such as rising sea levels threatening its survival. Our government's timely response to reduce carbon emissions through national initiatives was introduced to galvanise private development of sustainable energy solutions. Electrify's Synergy will play an important role in Singapore's changing energy landscape.
Just what is Synergy? In a nutshell, Synergy is a peer-to-peer (P2P) energy trading platform that enables owners of solar panels to sell energy to other consumers. It is agnostic and will allow anybody on the same utility grid to participate. Our platform will recommend suggested energy rates for producers based on the trending energy prices offered, but the producer will set the final price. When consumers search for suitable plans on Synergy, they will match with prosumers within their price range. This option to choose gives both prosumers and consumers full control over their energy prices. Additionally, tiered-matching ensures everyone can maximise their energy needs with renewable energy. The result is a online marketplace for energy, where the average homeowner can source for renewable energy options and determine their preferred rates from the seller.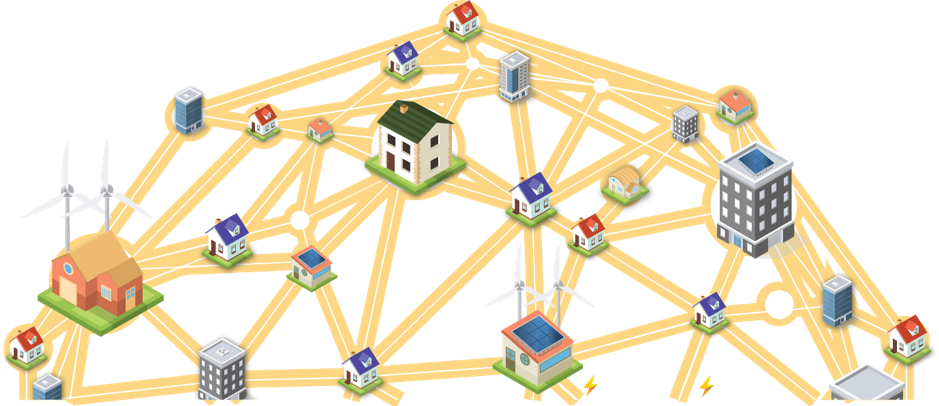 The concept of P2P energy trading is still novel, and most of the emerging technologies typically focus on micro-grids, such as gated communities and small towns. Electrify is one of the first companies in the world to offer P2P energy trades on a city-wide scale, making us pioneers in the field.
So how does Synergy work? Participants will have IoT digital meters installed on their premises, enabling Electrify to track energy production and consumption accurately in real time, allowing us to coincide generation with demand. Consumers enter their requirements onto the site, and Synergy's algorithms will match them with the optimal seller.
Payment is also a fuss-free affair, with Electrify's settlement processes handling most of the heavy lifting:

In addition to increasing access to more renewable energy options, we will deploy digital meters to collect energy data. Such data allows consumers more significant insights into their energy consumption patterns while facilitating energy trades. Consumers on Synergy will have access to their energy consumption data, in addition to viewing their list of energy sources, be it a retailer or matched-prosumers. Along with transaction history, these various data inject transparency into the process. More importantly, the digital meters also form the foundation for intelligent, data-driven energy services that enable more sustainable energy patterns and habits.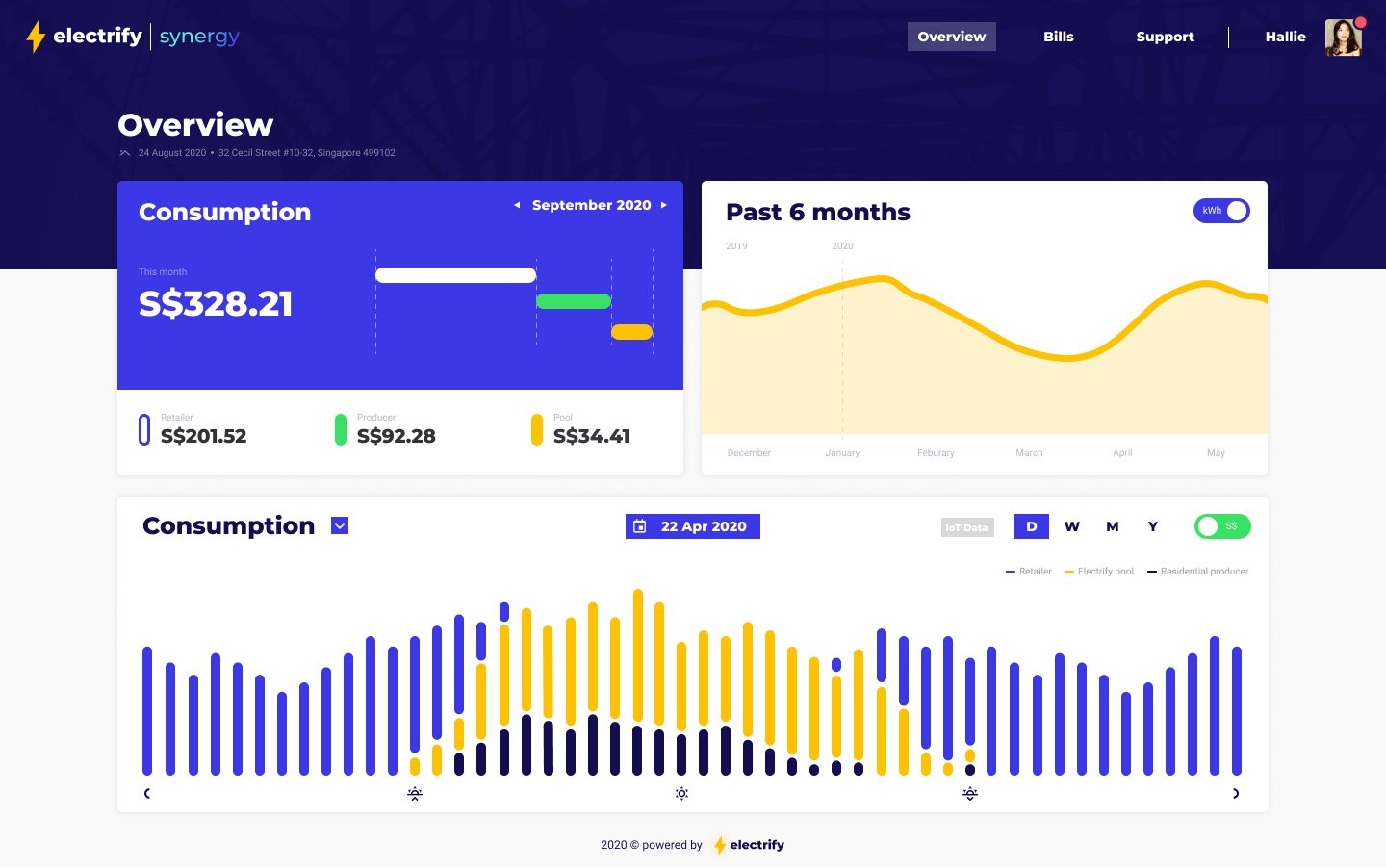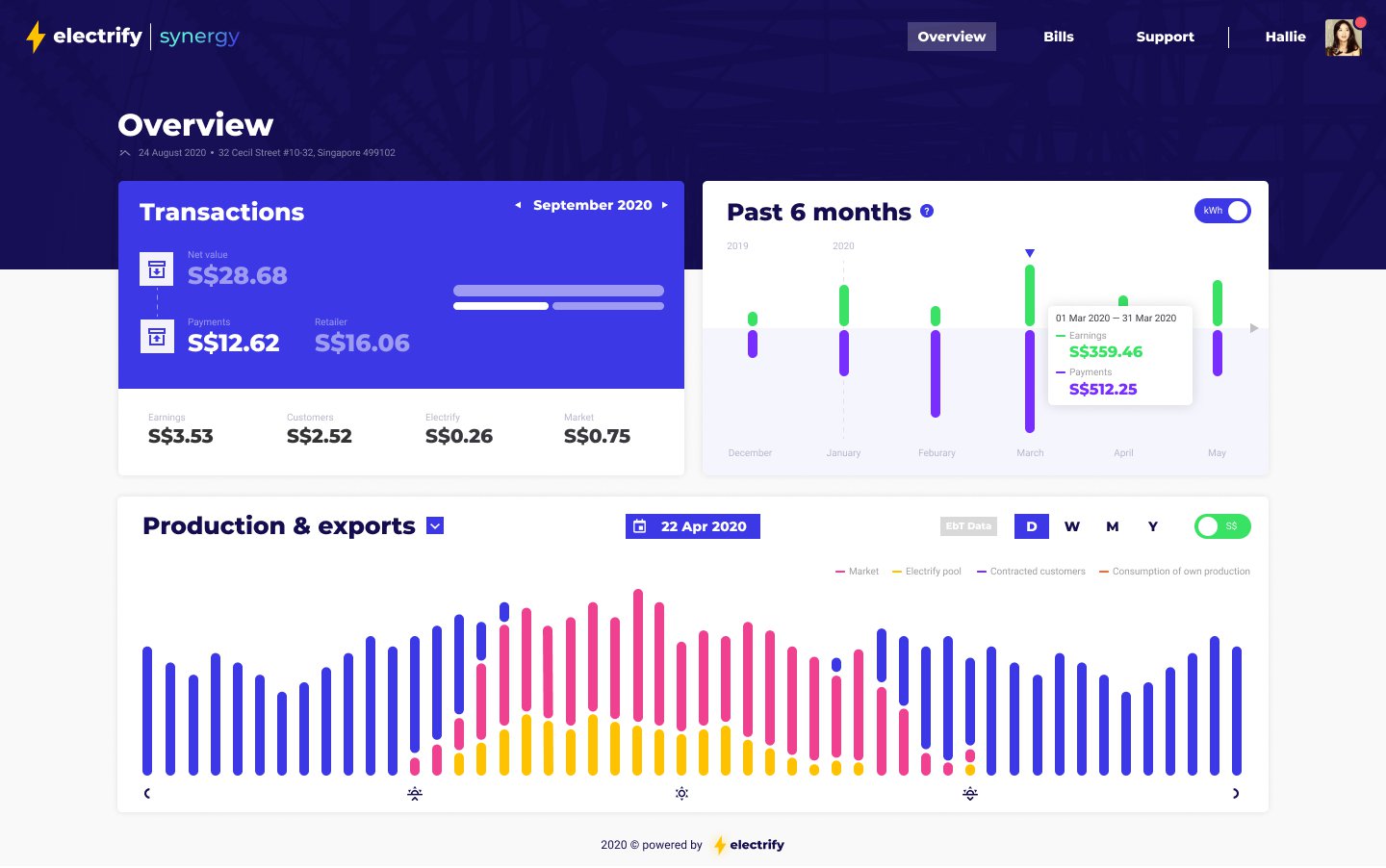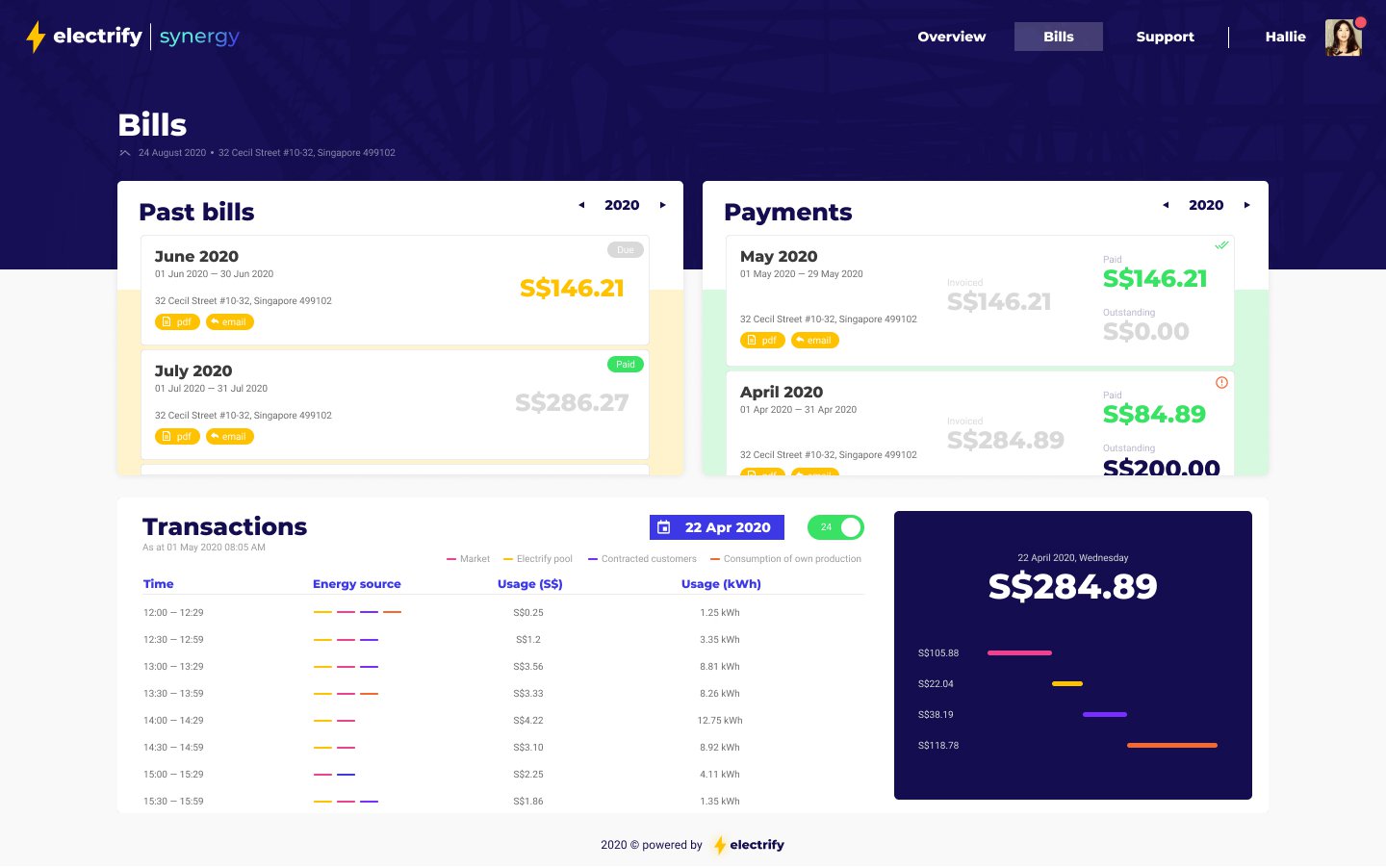 The immediate benefit of Synergy is the opportunity it grants to owners of solar panels to monetise their excess capacity. P2P energy trading might potentially accelerate ownership of solar panels as owners stand to recoup their investment in a shorter timeframe, especially with PV prices on a downtrend. Democratising access to renewable energy could also drive adoption among Singaporeans, who are becoming more climate-conscious. A study by the National Climate Change Secretariat (NCCS) determined the majority of Singapore were also willing to bear additional costs and inconvenience to safeguard the planet for future generations.
Being a land-scarce nation, Singapore has limited options when it comes to generating renewable energy. However, its highly urbanised landscape offer unorthodox real estate in the form of rooftops as potential solar PV sites. Combined with Singapore's position on the Equator, solar power makes an ideal form of renewable energy. We are beginning to see this transition following the government's vision of deploying at least 2 Gigawatt peak of solar energy by 2030, with the HDB providing support by mounting solar panels on the top of residential buildings. With limited land, every single rooftop is crucial in maximising the possible output of solar energy. The potential of industrial roofs has not been sized. There are currently over 65,000 residential rooftops available, and only 1,250 of these sites are equipped with solar PV systems. Meanwhile, the solar potential of industrial roofs has not been sized.!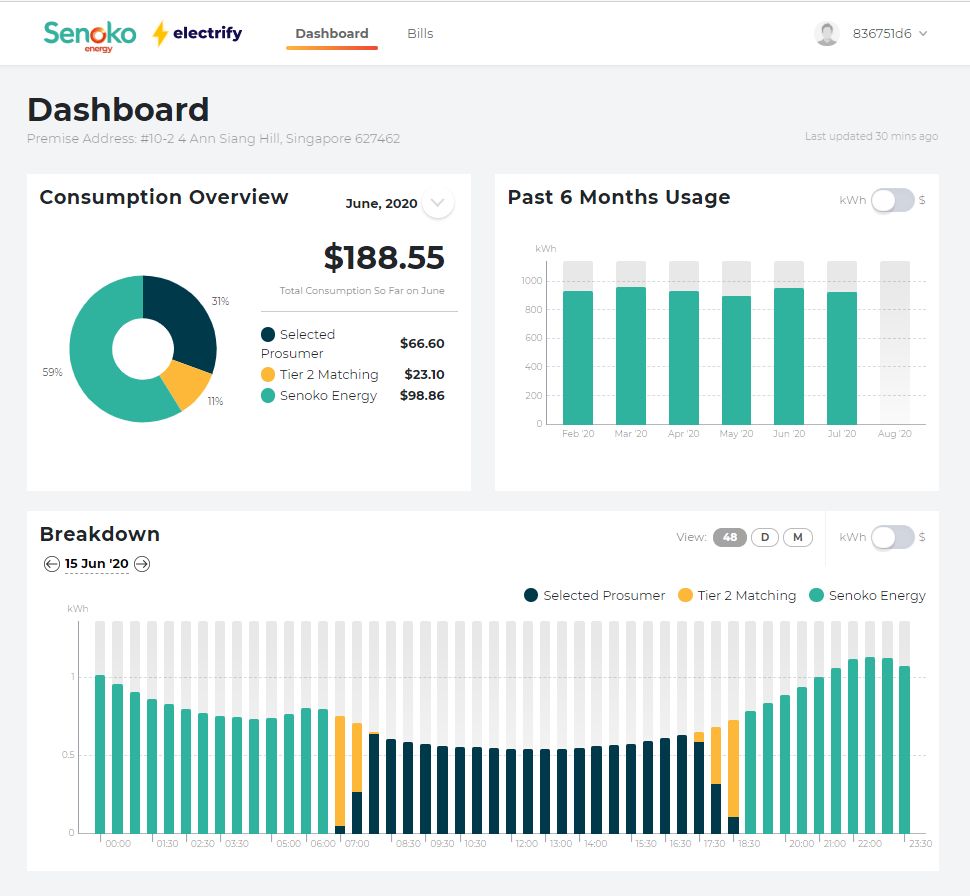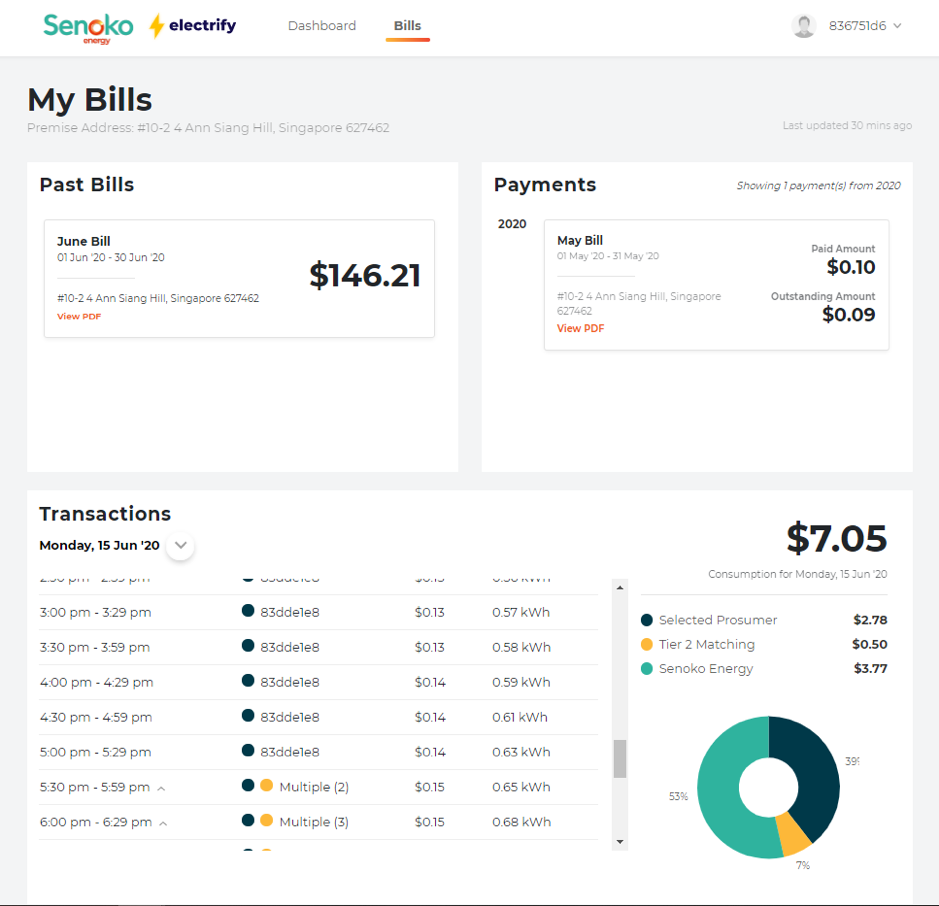 SolarShare - Singapore's iteration of Synergy, in collaboration with Senoko Energy and ENGIE Factory
Outside Singapore, the deregulation of energy markets is setting the stage for P2P energy trading across Asia, as seen in major economies such as Malaysia, Thailand and Australia. We are already in conversations with key decision-makers across these countries to deploy Synergy regionally and working hard on a commercial trial to bring the technology to the masses.
Synergy and P2P energy trading remain on track to shape the future of the Asian energy landscape. We look forward to having you onboard with us as we embark on —SolarShare— our commercial trial in Singapore. To find out more or to sign up as a participant, please visit: http://www.solarshare.sg/.